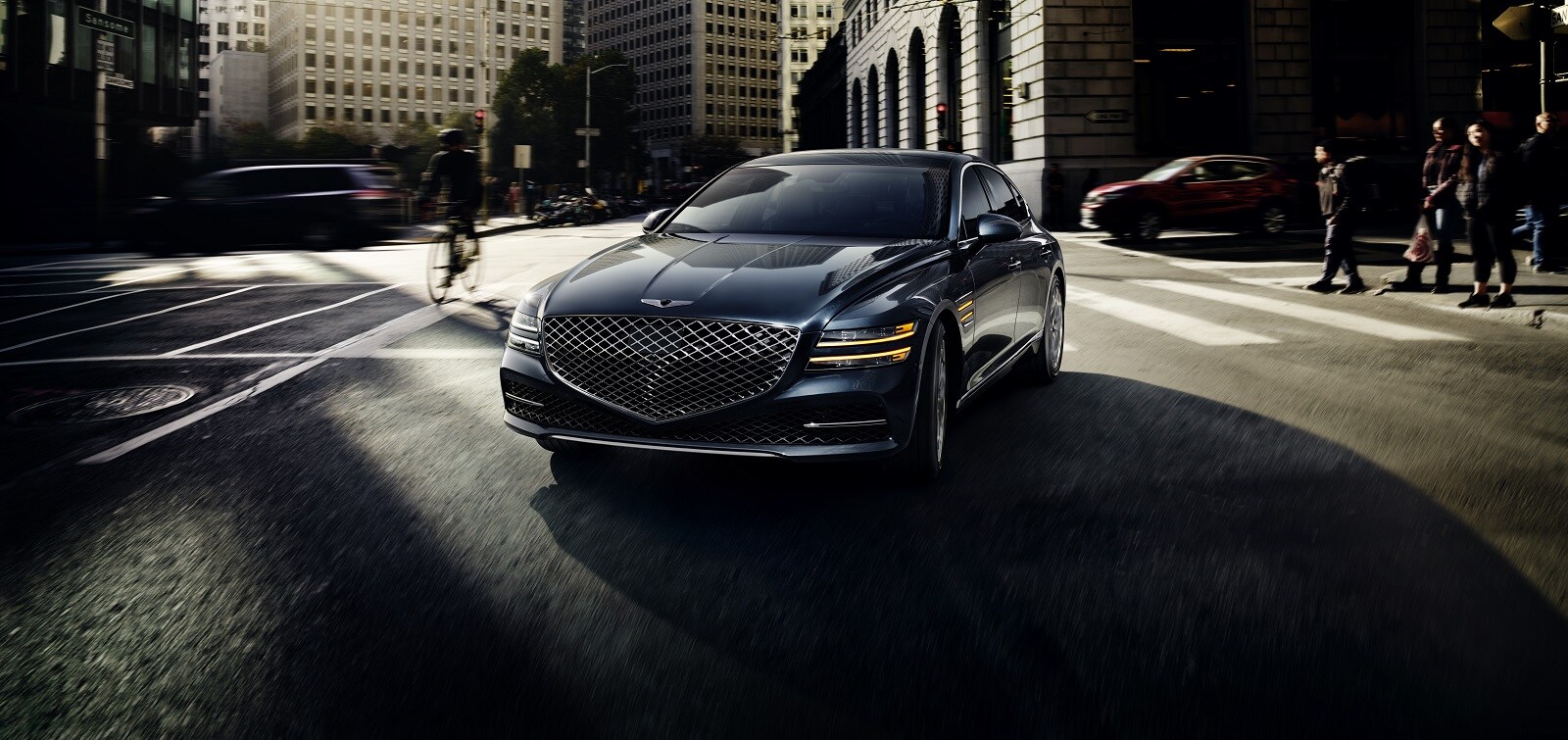 The New Genesis G80 is Set to Impress in Danbury
When the Genesis G80 came to market in 2017, people knew it was a game changer. It offered luxury and modern driving convenience with features and amenities that grabbed the attention of people who stopped into our showroom, along with automotive experts the world over. Each year, the Genesis G80 impresses, and its slated to do more of the same with the all-new 2021 Genesis G80. It's revamped and continues to offer impressive features and much more for those in Danbury along with Waterbury and Fairfield to love.
Refreshed Exterior Style
The outside of the 2021 Genesis G80 is going to keep its style that turns heads. You'll see a lot of similarities but also some new differences like updates to the grille and new quad LED headlamps. These headlamps echo the emblem of the Genesis design, and you're getting a sweeping fascia which has long given the Genesis G80 its standout looks. In addition, you'll find that it matches the level of quality that's on the inside too, as the entire visual appeal of the 2021 G80 is strong.
2021 Genesis G80 Trim Levels
The new Genesis G80 offers four different options via two trims. These trims are segmented by engine type, and the following choices are available at our dealership:
Genesis G80 2.5T RWD: a 2.5-liter turbocharged engine with rear-wheel drive highlights the standard option which includes memory seating, heated seats and steering wheel, keyless entry, and multiple USB ports
Genesis G80 2.5T AWD: giving you an all-wheel drive option, you get command of the road with power to all wheels when needed and the same features as its counterpart
Genesis G80 3.5T RWD: for added performance of a 3.5-liter turbocharged rear-wheel drive option, you're also getting ample features which includes a power sunshade, sunroof, and steering assist cruise control
Genesis G80 3.5T AWD: with the same features as the RWD option, the all-wheel drive addition gives you another choice if you're looking for added precision and power in your drive.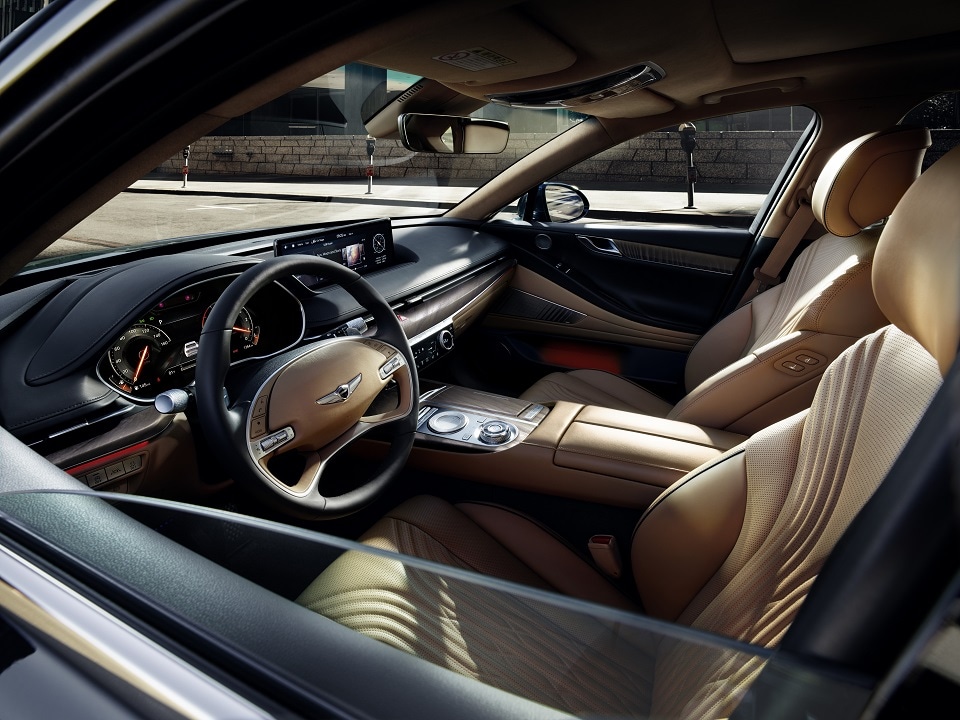 A Luxurious Interior
Inside the 2021 Genesis G80, you're going to find that it has ample room for you and its passengers, among the most in its segment. There's also fine materials throughout like soft Nappa leather and matte wood finish trim, and all the feeling of a premium drive as everything is within reach and gives you the luxury feel that sets a high standard for all other mid-size luxury sedans.
Technology
Along with the premium cabin, there's ample technology. This includes a large touch display situated in the center above the dashboard of the Genesis G80, plus you're getting Android Auto™ and Apple CarPlay® integration, and hands-free, voice command technology for your calls, messaging, music streaming and more. There's also conveniences such as Remote Smart Parking Assist, which lets you get out of your vehicle and control it when pulling in and out of parking spaces using your smart key.
Safety
In addition to the technology that keeps you entertained, the 2021 Genesis G80. You're going to find Highway Driving Assist II which keeps your vehicle centered and provides safe distances between you and other vehicles, plus Adaptive Cruise Control with machine learning is able to adapt to how you drive for the optimal commute or ride on the highway. Additionally there is Forward Attention Warning with IR Camera which will keep an eye on your driving state so if you start to get drowsy, it can recommend you stop to rest.
New Engines Highlight Performance
There's now two new engines that are powering the Genesis G80. You will now find a standard 2.5-liter inline-four engine with 300 horsepower, while there's a new 3.5-liter turbocharged V6 with 375 horsepower and both offering standout fuel economy.
Test Drive the New Genesis G80 in Danbury Today
We want you to be able to learn all you can about the new 2021 Genesis G80, so contact us here at Genesis of Danbury serving those in Waterbury, Fairfield, New Milford, Carmel and Mount Kisco. We'll make sure you know all about the features and quality of the vehicle on our website, while also arranging a test drive.
Make an Inquiry