A Thrilling Luxury Experience Awaits Onboard the 2020 Genesis G70
At Genesis of Danbury, our showroom strives to provide you with a quality experience, and plenty of options and choices. The latest example is the 2020 G70, which has taken the automotive world by storm. That's because it's more than a luxury car. It caters to the lifestyles of a full range of people who are looking for something more from their driving experience. The Genesis G70 is a tone-setter for the future of luxury vehicle driving, and we want you to be able to explore it here in our showroom.
What is the Genesis G70?
The 2020 G70 is classified as a compact luxury sedan. That means it has widespread appeal and suits plenty of people from young professionals to seasoned and experienced drivers. In terms of size, it sits below both the Genesis G80 and G90, making it the smallest of the vehicles we have in our Fairfield area showroom, but it's still high on quality across the board. From spaciousness that makes it bigger than most vehicles in its segment to powerful engine technology and safety, the 2020 Genesis G70 is the full package, impressing local drivers and national automotive experts alike.
What's New on the 2020 Genesis G70?
While much of the Genesis G70 has remained the same because it is only a few years old, there have been some updates to the vehicle for the 2020 model year. This includes adding to some of the appearance packages. For example, the G70 Sport package has improved its braking to give you aggressive and fun control, as well as offering all-season tires and 19-inch wheels for the performance you need during all seasons. There's also additional interior and exterior colors you can choose from depending on the model.
Power and Performance
The performance credentials of the 2020 Genesis G70 stand out right from the start. Not only does the vehicle's stylish and rigid frame help create a low center of gravity and aerodynamics, but under the hood you'll find your choice of engines depending on the G70 trim you choose. A standard 2.0-liter turbocharged engine that produces 252 horsepower when using premium fuel powers the G70, while giving you plenty of efficiency to the tune of 22 miles per gallon in the city, and up to 30 miles per gallon on the highway. Drivers can also opt for a powerful 365-horsepower V6 to truly maximize performance output, too.
You'll also be able to find features like launch control which can help the G70 reach a zero-to-60 miles per hour time of 4.5 seconds, while a sophisticated all-wheel drive system that works with dynamic torque vectoring control is able to deliver stability on a variety of surfaces for all seasons which is needed in areas like Danbury and New Milford, CT.
Safety and Technology
Thrilling performance and dynamic driving is only one part of the comprehensive vehicle experience the 2020 Genesis G70 provides. You'll also be connected in a variety of ways with innovative technology features, while having the confidence on the roads of Waterbury, CT with plenty of available safety, too.
Starting with safety, the Genesis G70 gives you the chance to see all around you with an available Surrounded View Monitor for full 360-degree views which makes maneuvering through different types of spaces easier because you can see where your vehicle is and any object around it in full view on the eight-inch central display that's standard. There's also features like automatic emergency braking for when the vehicle senses you're too close to an oncoming object, along with blind spot detection with cross-traffic alert, driver attention alert, lane keep assist and adaptive cruise control among available options. You'll also be able to see the important information you need while keeping your focus on the road with standard head-up display which will appear on the driver's side windshield. All these features add up as the 2019 Genesis G70 was named an IIHS Top Safety Pick+ winner, which is the highest honor a vehicle can get.
Technology and convenience features are what make the everyday driving of the Genesis G70 enriching. You can conveniently load and unload thanks to a hands-free smart trunk which automatically will open when you stand behind it with your smart key. You're also going to find plenty of infotainment options on the aforementioned eight-inch display. That includes integrated navigation and compatibility with Android Auto™ and Apple CarPlay™ to sync your device and utilize its interface. You can also enjoy music streaming from a variety of sources and with pristine sound thanks to a 15-speaker Lexicon® sound system, while keeping your devices charged is simple with an available Qi wireless charging pad onboard the G70.
You and your passengers will feel comfort and connectivity during all your travels onboard the Genesis G70, and with a thoughtful interior design it's all within reach.
Awards and Recognition
In the short amount of time since the G70 debuted in late 2018, it's already picked up plenty of awards and recognition. A short sampling of the honors includes:
2019 North American Car of the Year


MotorTrend 2019 Car of the Year


2018 iF Design Award for Automotive Product Design


2019 Car And Driver 10Best Award Winner


AutoGuide.com 2019 Car of the Year


2019 IIHS Top Safety Pick+


Top Rated Brand (along with the G80 and G90) in J.D. Power 2018 APEAL Study
That's merely a sample size, as there are plenty more honors the G70 has received, and we're confident that there are more to come. It shows just how innovative and well put together the compact luxury sedan is, earning all this praise in its first year, as it's breaking the mold and expectations as an entry in the premium space where there are many different choices.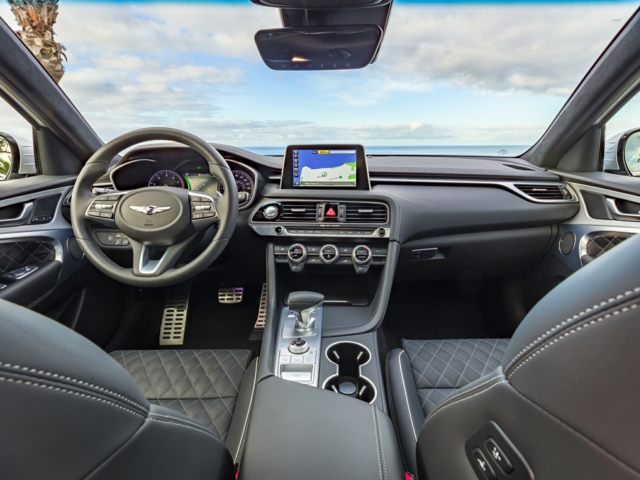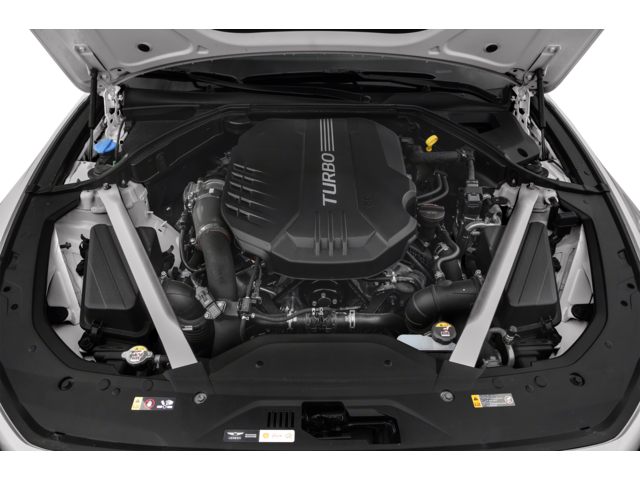 2020 Genesis G70 Models at a Glance
Knowing which Genesis G70 you're going to choose is important. You've been able to read about all the quality features, and now you can decide between the different trim levels. We're sure that when you take a look at a few key features and differences, you'll see the uniqueness across the 2020 Genesis G70 lineup.
2.0T Advanced: the standard option comes with a 252-horsepower engine, along with premium feel throughout with connectivity and safety ranging from touch display to adaptive cruise control and leather finishes on the steering wheel.
2.0T Advanced AWD: with the same features as the 2.0T Advanced, you're going to find all-wheel drive onboard, plus a heated steering wheel standard, along with more interior color options too.
2.0T Sport: adding a performance feel, the Sport package offers a boost in riding thrills with 19-inch wheels, plus adds a 15-speaker sound system with two subwoofers.
3.3T Advanced: providing you with a 3.3-liter, 365-horsepower and rear- and all-wheel drive, with many different upgrades available from various packages. You're also going to find features like blind spot monitoring, and dusk sensing headlamps which adjust and turn on when the natural light changes outside.
3.3T Design: if you're looking to increase the look and feel with specialized color and finishes, that's what you're going to find on this edition of the G70. It too has the features of the 3.3T Advanced, is available in rear-wheel drive and all-wheel drive, and adds more overall appeal.
3.3T Dynamic: taking what you'll find and giving you additional features such as front, side and rear view cameras for a surround view of what is around you when driving to add in even more safety and security, along with performance-based tires to give you the trill of a compact luxury sedan.
Come Experience the 2020 G70 at Genesis of Danbury
If you'd like to learn more, our team would be happy to provide you with all the details you need on the 2020 Genesis. In our showroom serving those from Danbury to Carmel, NY we'd be happy to provide you with all the details and information, as well as giving you a hands-on feel for the vehicle. Contact us today and we can get started soon.
Make an Inquiry