Genesis of Danbury Compares The Genesis GV70 and GV80 SUVs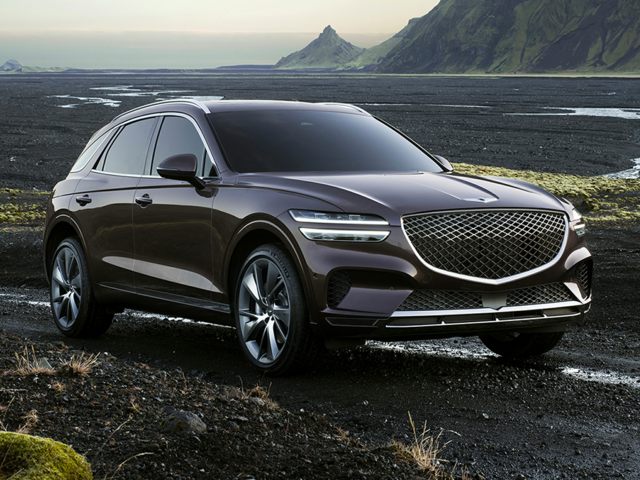 New Genesis GV70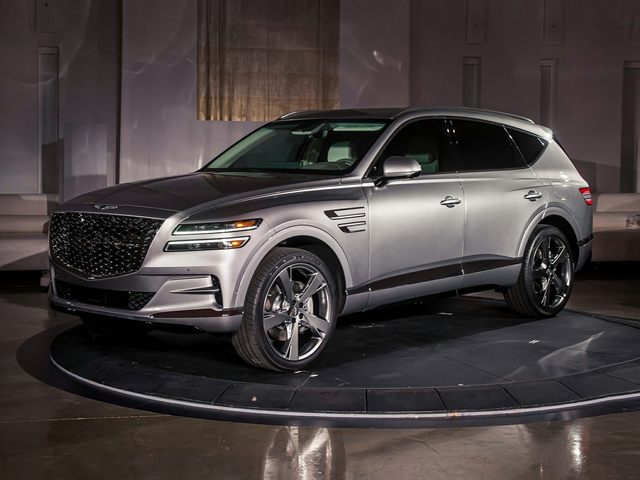 New Genesis GV80
As the Genesis lineup continues to grow, drivers in Danbury are going to find new SUVs available here at our dealership. The Genesis GV70 and Genesis GV80 provide you with a premium driving experience as each SUV has the features that give those in Waterbury as well as Fairfield and New Milford, along with Mount Kisco and Carmel the opportunity to find their next luxury SUV and experience the highest levels of satisfaction.
GV70 vs. GV80: How Are They Different?
Both the Genesis GV70 and GV80 are unique, as they have plenty of differences between one another. The GV70 is a smaller crossover choice, while the GV80 sits right above it in segment. This makes the GV80 a bigger vehicle in terms of size and space. Each are spacious in their own right, but with the GV80 you have the option to go from a five-passenger vehicle to a seven-seater, while the GV70 is exclusively a five-seater. Each one is able to meet the needs of drivers and we can highlight the space onboard here at our dealership.
In addition to the difference in size both on the exterior and interior, there's also differences like wheel sizes as the GV80 rides higher than the GV70, which is lower to the ground. Both still have a bold stance, and multiple wheel sizes available. Along with the exterior stance, you'll find that the Genesis GV70 offers an additional engine choice. It's a V6 with 375 horsepower. In terms of fuel economy, as the smaller model the GV70 holds a slight edge over the GV80 as well.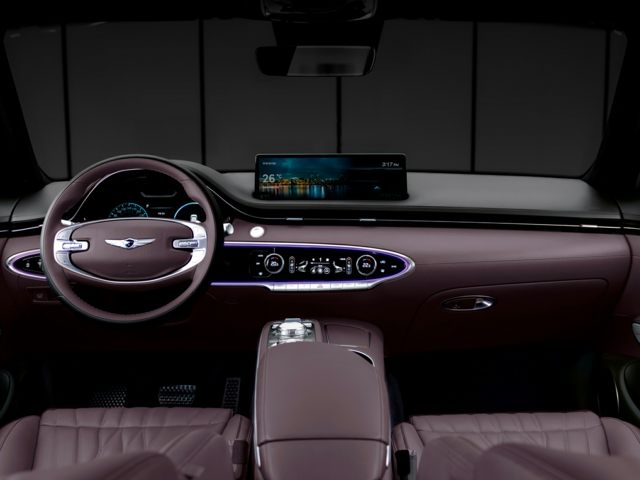 Genesis GV70 Interior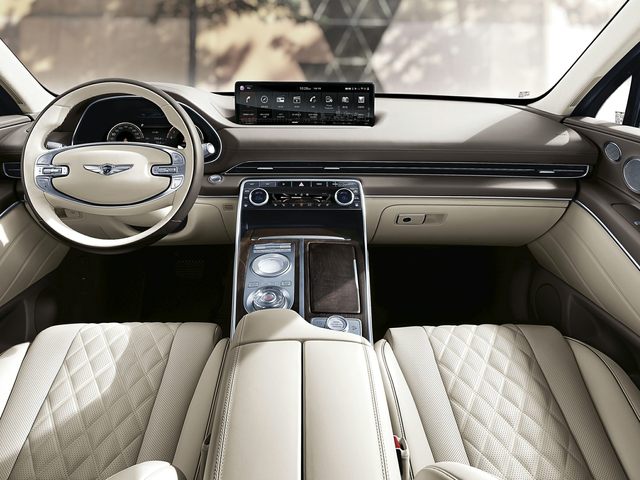 Genesis GV80 Interior
How Are the Genesis GV70 and GV80 Alike?
Of course, both SUVs are also quite alike in many ways too. Each uses the same standard engine. It's a 2.5-liter turbocharged option which produces 300 horsepower, and gives you plenty of oomph for vehicles of each size, so you can drive with confidence in Danbury and beyond.
Inside, you're also going to find a number of different seating finishes, which includes leather seating, and quilted seating. These come in different colors, to pick the right feel, plus you have ambient lighting onboard too. There's also a widescreen touch display that's able to connect to the likes of Android Auto™ and Apple CarPlay®, plus there's 4G LTE Wi-Fi options onboard as well. You're going to find premium sound systems, and a number of different driver assistance and safety which will alert you and ensure you are safely driving through Danbury.
Both these Genesis SUVs also come with warranty coverage that is unmatched by other luxury brands. This is highlighted by a 10-year/100,000-mile Powertrain Limited Warranty, as well as a five-year/60,000-mile new vehicle limited warranty, and three years or 36,000 miles of complimentary scheduled maintenance.
View the Genesis GV70 and GV80 Lineup Today
Here at Genesis of Danbury we'd be happy to provide you with all the details. Contact us and we'd be happy to get started and showcase both the Genesis GV70 and Genesis GV80 SUVs here at our dealership, and help you find the right new luxury vehicle.
How Can We Help?
* Indicates a required field